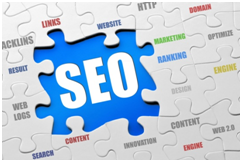 Now that you've done step 1 and chosen your keywords, you can increase your websites chances of ranking for those keywords. Search Engine Optimization (SEO) is about doing just that!
In order to get found, you should aim to be on the first page or in the first few search engine results for your keywords. However, you want to create content for your visitors (humans) and not for search engines.
Below are 3 on-page website optimization elements and 1 off-page website optimization element.
On-Page: How well your website's content is presented to search engines
Page title
This is the title of a page that is presented in search engines

Make your title fewer than 70 characters long and include keywords in your title

If possible, place keywords at the beginning of the title

Use different page title for each page because each page is an opportunity to target different keywords
Meta description
Meta data is the text seen as the description of a site that comes up in a search engine

Including keywords in your meta description can attract visitors, even though it does not affect search engine rankings
Meta tag description is used to provide the searcher with a short description of the page beneath each result
Cascading Style Sheets (CSS)
HTML is the back end code of your website that search engines read. Search Engines extract relevant information from your HTML, such as keywords
CSS holds a template for the layout of your page. In the CSS, you define how headings, links, etc should look
Putting layout-related information in your HTML can dilute the relevance of the HTML text, which is what you want search engines to read, so put that information in your CSS
Off-Page: Your website's overall "authority" on the web, which is determined by what other websites say about your site
Have inbound links
One of the main influencers of a website's authority is inbound links. If another website links to your website that is called an inbound link
The more inbound links the better
Create valuable entertaining content that other websites will naturally want to link in their own content is a great way to increase your website's inbound links.
You can also improve your chances of attracting inbound links by sharing your content in social media and optimizing it for search results so it can be easily found
How have you used SEO to your advantage? Share in the comments!