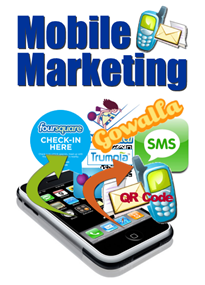 Are you one of those people who have their phone attached to their hip? I know I am! In fact, it is anticipated that by 2014 mobile internet usage will take over desktop internet usage. Globally, there are 4.6 billion devices that are supported by the most highly developed and rapid growing platforms of communication. This rapidly increasing mobile technology is also taking mobile marketing to new levels.
Mobile marketing has incredible reach and a huge user base, giving it massive potential. This is a viral form of advertising and marketing that delivers an unmatched response rate compared to traditional forms of marketing, like radio, television, newspapers and billboards. It even greatly outperforms direct mail and email marketing.
Facebook:
The popular social networking platform is already creating waves in the online advertising industry. With its ad creation center that offers flexible targeting options and comment streams, it is now entering the mobile space in a huge way.
Currently, over 600 million users are known to access Facebook using their mobile devices and this segment represents nearly 50% of Facebook's user base. These figures make it apparent that there is a virtually untapped market and user base that can now be reached by mobile marketing. Supporting this strategy, the social networking conglomerate recently acquired a group messaging company with the ability to have its messages integrate images, maps and rich media.
The use of mbile development and rich media messaging is forecasted to go far beyond the mobile platforms that are currently in use. While the exact integration road map is not yet identified, Facebook hopes to be able to provide the best user experience.
Mobile Landing pages:
Advertisers and marketers need to shift their focus to this untapped market by creating a mobile landing page for their blogs and websites. This will enable mobile users to access the content you produce on their phones in a way that is easy to read and understand.
SMS Marketing:
Of the 4 billion mobile phones in use worldwide, 3 billion are SMS enabled. SMS messages have endless marketing capabilities as it goes far beyond its use for personal communication – it is also an ideal medium for delivering a promotional message. This application-to-person type of messaging has undeniable potential and is very easy to apply. Just like email distribution lists, once you have your list of names and numbers, disssemination is more or less immediate!
A dedicated mailing list will work much better than sending SMS messages to random markets. Once you catch readers' attention, the utlimate goal is to persuade them to opt-in to receiving other promotions and deals.
Start with a SMS message that is dynamic, and relevant! There is little worse than reading a boring message or one that is completely irrelevant. Those messages will end up being deleted, perhaps even blocked, and may ultimately deter people from your brand. And always make sure people have opted-in to receiving the SMS messages. Rememeber, no one likes a spammer!
Next, make the short code for your recipients to reply – one that is memorable and easy to type with a regular QWERTY keyboard. You need to make this process as easy and simple as possible.
Finally, keep it simple, fun and engaging, and you'll get results. If you can leave the reader wanting more, then you can fill that need in your next message!
Interested in exploring different ways of marketing your business? Get in touch with us for a free 30-minute consultation!