Whether the medium is print or online, the challenge in creating a brochure is to find ways to leave an impression - to make it interactive and engaging - while effectively getting the information out and not overwhelming the reader. I like non-traditional sizes and shapes, with a preference for square formats. I prefer smaller than larger just because a smaller, compact, concisely written brochure can be a powerful marketing tool (and beautiful!).

The Client
Hendrick Seeds is a premium grower and purveyor of high quality proprietary soybeans to the international marketplace. They had several messages to convey to different market segments, a new logo to show off and a trade show coming up with new soybeans to sell.

The Brochure
Hendrick Seeds wanted a full colour brochure to promote the company, the product, the process and the future. They wanted a printed brochure to hand out at a number of key trade shows throughout the year.
The Design
We chose a booklet format in order to have several separate "canvasses" to present a lot of information to different market segments. We decided on an 8-page, square design that would stand out, and be easy to fit into folders, mail or hand out at trade shows. As with previous projects with this client, we knew we could create a clean and classy design rich with images, a good story and technical details that would be supported by customized diagrams and tables.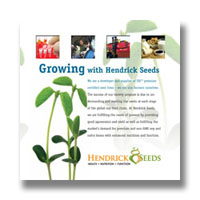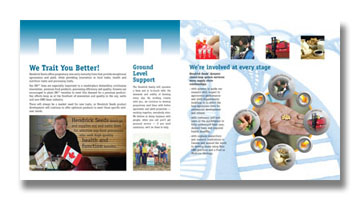 The Design "Special Extras"
I wanted any special design attributes to be important to the user experience and heighten the message or marketing strength of the brochure, not be used just because you can. I decided to use die-cut windows on the cover that opened to the photos inside to expand the story each photo told. We started the "story" on the cover and used images from the inside to carry the story forward and invite the reader in.
More technical information was added late in the project. We knew 1 or 2 extra pages was all that was needed, so increasing the brochure page count by another spread (4 pages) was going to be too much and would also increase the print cost significantly. We decided the solution was an extra flap on the last page, which also added an additional dynamic flair to the brochure.
TIP: When someone is engaged both physically and mentally they are using both left and right sides of their brain and retain more information with greater clarity. So a different type of fold/opening can increase the branding/messaging effectiveness of a printed piece.



The Photos
The client supplied lots of photos, which was great, but several needed some Photoshop work, if only to brighten a blue sky when Mother Nature wouldn't cooperate! Additional photos came from stock photography with very attentive photo research. With such a specific industry and high-calibre product, we decided to shoot the soybeans produced by Hendrick Seeds in our own studio.

The Final Files
This was a tricky one to set up for the printer and even trickier to set up as a PDF file for download. The 10-page brochure basically consisted of a cover and an inside spread. The cover involved an extra flap that folded out on the last page. I find the best way to make sure I have the pages set appropriately for the printer is to create a dummy mini mockup, and then prep the files to be print ready (convert type to curves, add bleeds, replace positional images with hires final photos, set levels for colour, etc.). These days, most printed brochures are needed in a format to be emailed or downloaded. Because this brochure involved 2- and 3-page spreads, the best way to tell the story in a PDF was simply one page at a time!
The End