As a designer, it's exciting to see infographics take hold in the marketing community. It's a concept that's been flying around our office, as well as the online marketing community over the past few years and it looks like it's here to stay.
It's exactly what the name implies: a visual representation of data, information and knowledge. In designer terms, this means moulding information into visually engaging designs. In marketing terms, this means, educating your audience, building brand, optimizing search engine rankings and driving traffic to your website. All in a neat, effective, "designer" package.
Sure, they can look pretty (which appeals to designers like myself), but are they really a serious marketing tool? The answer is… Definitely yes!
We can all agree that we are constantly bombarded by information, whether it's through email, cell phones, the Internet, or while riding on the bus. We become numbed by the overload of information and therefore, we end up disregarding a large portion of useful and not-so-useful information.
Effective infographics allow the reader to absorb large amounts of complex information quickly and easily.
We recently created an infographic for one of our clients, Browns Cleaners; they are industry leaders in wedding gown preservation and restoration. Vintage and heirloom gowns are a growing trend in weddings, so what better way to highlight Browns Cleaners' expertise than in a fun infographic on wedding gowns?
Here are some tips we've found along the way for creating an effective infographic:
1. Connect with your audience
Large amounts of information and data no longer need to be dull and boring. When making it easy to understand, have some fun with it! Don't be afraid to make the audience smile a little. Humour is a great way to connect with your audience. Find a way to engage them and make the information memorable. Throwing in a little Lady GaGa never hurts either!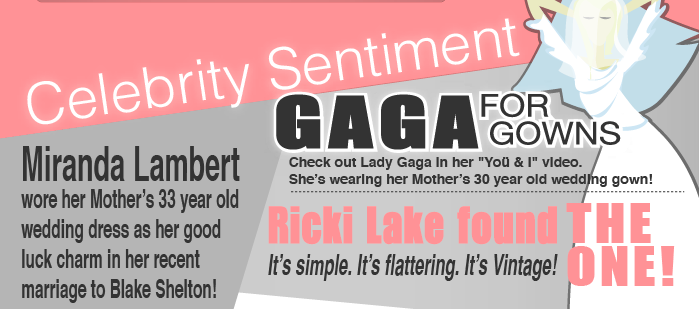 2. Keep it simple
Infographics shouldn't be cluttered and filled with a lot of text that nobody takes the time to read. Life is complicated and fast-paced already, so keep it simple and succinct. Focus on the graphics and keep the text to a minimum.

3. Choose a simple colour palette
You don't necessarily need flashy colours to get noticed. It's best to appeal to the masses by keeping it calm, easy on the eyes and even fairly neutral. Let the graphics "POP", rather than the colour.
Colours can be used to support branding, a specific promotional campaign or compliment your website. We decided to use the Browns Cleaners blue to support their brand and compliment their website, along with a pink accent to give it a feminine feel.
4. Perform the "No Text" Test
A consideration in creating an infographic is that you should be able to remove all the text and still make some sense of the infographic. Let the graphics tell the story, rather than rely solely on the text. Any bit of information that can be displayed visually, should be. The reader should be able to glean the necessary information from the graphics, and the text should complete the story.
5. Tell a Story
An infographic isn't just about visual data. It's about capturing your audience and telling a story. It's about leading the viewer through the information. In the case of the Browns Infographic, we used "Something Old, Something New, Something Borrowed, Something Blue" to lead the viewer through the piece. It's okay to have a lengthy infographic, as long as you're presenting a beginning, middle and end.


Question: Have you come across a really great infographic? Share the link in the comments section!